9 Travel Essentials For My Trip to Europe
Written by Glory
See original post
I am in the process of preparing for not one, but two trips to Europe in the next few months to cover some amazing Architecture and Art.  This is leaving me a bit panicked about all of the packing and organizing I need to do. One trip will be very quick and one trip will be longer but either way, that means packing in the smartest way possible.  Here are the 9 items that are in my shopping cart:
Note: This post contains affiliate links. By clicking the link, at no cost to you, I may earn a small fee. This helps pay to keep the amazing content coming to my wonderful readers.
Passport Clutch: Rather than just a cover for the actual passport, I prefer the clutch. This way, I can include not just my passport, but also travel documents and currency all in one safe and easy to access place. These clutches are really inexpensive and come in a few different fun colors (including black for the traveling architects out there).
Portable Charger: Being on my computer and my phone all of the time, it seems like the batteries are always draining so quickly. When traveling to a foreign country, I don't know when or where is my next opportunity to charge my devices, not to mention during a long-haul flight that may not have chargers available. I especially love the stylish rose gold color option that this small, discrete charger offers.
Hoodie Neck Pillow: I get terrible neck pain very easily these days, mainly because I run a lot and sit at a computer a lot. So, a long flight leaves me pretty cranky. Additionally, I find it hard on flights to have the cold air conditioning blowing on my head the whole time. As much adjusting as I do, its hard to get the temperature just right. And voilà: a soft hoodie and a supportive neck pillow in one! Brilliant! And, the pillow deflates to make it flat for packing.
Multi-Colored Packing Cubes with Laundry Bags: These packing cubes are such a great idea. I like to keep the different items in my wardrobe neatly separated and organized so that when I get to the hotel room, I can unpack in a civilized manner. The laundry bags are especially helpful: I don't want to mix the dirty laundry with the clean items in my suitcase.
Portable Hotel Door Lock: While I was researching other travel essentials, I came across this ingenious item. It adds extra security to your hotel or airbnb door.
Collapsible Makeup and Toiletry Bag: These stylish little bags come in a variety of colors and can collapse to be easily stored when I get home from my trip. What a great way to store my essential toiletries and makeup for the flight or train ride, rather than lugging around a large toiletry bag.
Travel Adapter: A must have for traveling to Europe from the US, especially since I will be heading to both the UK and continental Europe.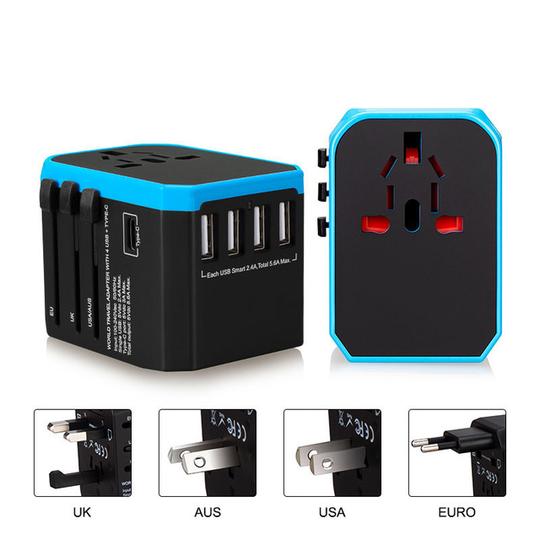 Smart Accessory Bag: As wireless as we are these days, we aren't completely untethered yet, are we? Phone chargers, fitness watch chargers, earphones, etc. I hate reaching in my bag only to grab a knotted, tangled and unusable mess. This little pouch will solve that problem.
Folding Travel Tote with Luggage Strap: This is a great travel accessory. I could keep it with me on the flight to hold whatever I need just during your travel time, with the checked luggage down below. When we rented a house in the South of France, we took many day trips to the beach, to sight-see, etc. And it folds flat to make it easy to pack in the larger suitcase.